Purdue will join Gavitt Games as part of 2016-17 non-conference schedule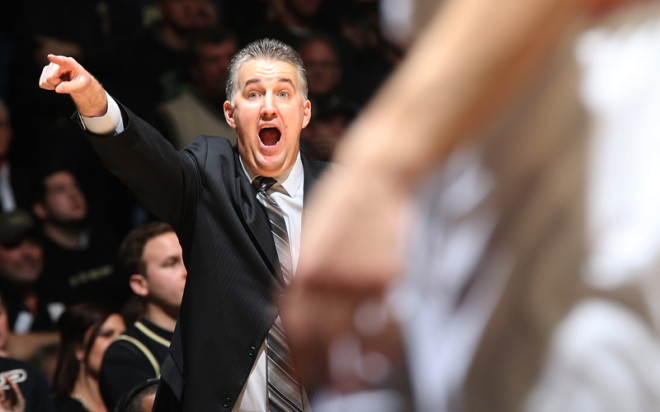 MORE: Purdue considered a top-25 team next season
If things fall a certain way, Purdue will play non-conference games next season against each of the other five major basketball conferences.
Entering a season in which Purdue should return significant assets from this past season - though some NBA decisions do loom large - it hopes it has scheduled fittingly.
"We feel like we have a lot of pieces and have the potential to be a pretty good team next year," said director of basketball operations Elliot Bloom, who handles Purdue's scheduling. "To have a schedule that mirrors that is always one of the goals."
In addition to playing in the annual Big Ten/ACC Challenge, the Boilermakers will be a first-time participant in the Gavitt Games, an annual event between the Big Ten and Big East. That series began last season, though Purdue was not part of the debut slate.
Purdue's Big East and ACC opponents will not be known for some time, but Bloom expects that the Gavitt Games contest will be a home game, clearing the way for the Boilermakers to go on the road for the Big Ten/ACC Challenge for the second year in a row. Purdue won at Pittsburgh last season.
There are scheduling safeguards in place that will prevent teams from going on the road for both events in a given year, and the Gavitt Games debut being in Mackey Arena works well in that it fills Purdue's need for a major-conference home game.
Purdue will play at least two ACC opponents next season, because it will draw Notre Dame in the Crossroads Classic in Indianapolis, one of several neutral-site games for the Boilermakers next year.
PURDUE NON-CONFERENCE HIGHLIGHTS
Team
Conference
Event
Venue
2015-16 Record

Big East opponent

Big East

Gavitt Games

Likely home game

- Mackey Arena

—

ACC opponent

ACC

Big Ten/ACC Challenge

Likely road game

—

Arizona State

Pac-12

Unaffiliated

Madison Square Garden - New York City

15-17

Notre Dame

ACC

Crossroads Classic

Bankers Life Fieldhouse -

Indianapolis

24-12

Auburn

SEC

Cancun Challenge

Hard Rock Hotel Riviera Maya - Cancun, Mexico

11-20

Texas Tech

Big 12

Cancun Challenge

Hard Rock Hotel Riviera Maya - Cancun, Mexico

19-13
GoldandBlack.com has confirmed that Purdue and Arizona State will meet next season in New York City's Madison Square Garden.
Additionally, Purdue will be a participant in the Cancun Challenge, where it could draw both Auburn of the SEC and Texas Tech of the Big 12, the Red Raiders coming off an NCAA Tournament berth. Utah State is the third team in Purdue's division in Cancun.
Arizona State will represent Purdue's first Pac-12 opponent since it was shocked by Washington State in the Old Spice Classic in 2013.
Worth noting, too, is that the Boilermakers will probably experience their most diverse travel season ever, starting with a preseason exhibition trip to Spain. In-season, Purdue will play in Mexico, New York City, an ACC locale, then in Washington D.C. for the Big Ten Tournament.
Purdue finished this past season 26-9 and finished 12th in the final AP poll. It is considered by several outlets to be a top-25 team heading into next season also.
Player Reviews ($): Vince Edwards | A.J. Hammons | P.J. Thompson | Ryan Cline | Isaac Haas | Caleb Swanigan | Jacquil Taylor | Johnny Hill

Copyright, Boilers, Inc. 2016. All Rights Reserved. Reproducing or using editorial or graphical content, in whole or in part, without permission, is strictly prohibited